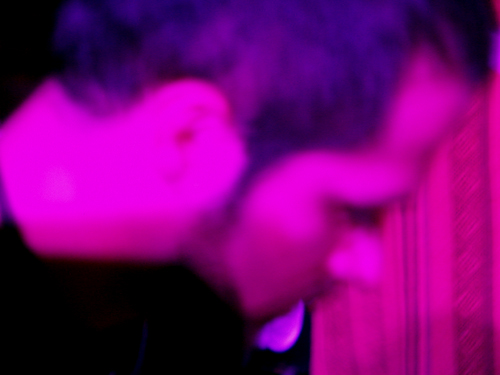 From wikipedia http://en.wikipedia.org/wiki/Lorenzo_Esposito_Fornasari
Lorenzo Esposito Fornasari aka LEF is a vocalist and composer from Bologna, Italy. Over the last decade he has had notable collaborations with Bill Laswell, Hamid Drake, Nils Petter Molvær, Eivind Aarset, Jamie Saft, Pat Mastelotto, Eraldo Bernocchi, Markus Stockhausen, Tony Wakeford, Trevor Dunn, Giovanni Lindo Ferretti, Raiz, Quintorigo, Cristina Donà, Gianni Maroccolo, Ambrogio Sparagna, Faraualla, Simone Zanchini, Enrico Gabrielli, Mariposa, Sigillum S, Ephel Duath and Fabrizio Puglisi.
Comprised of monstrously prolific Zu bassist Massimo Pupillo, Sigillum-S founder and noted experimental guitarist Eraldo Bernocchi – whom you may also know from his Mick Harris collaborations – drummer Balázs Pándi, and shapeshifting vocalist Lorenzo Esposito Fornasari, Obake operate in the twilight area between 'art' and sludge. Fornasari's contributions in particular firmly place the music herein into the bracket of 'art' – he soars operatically above and through the music, then plummets down into the lower registers to intone, command, insinuate, mutter, howl and screech like a thousand chattering apes. His hollow, tombstone-scraping croak is the equal of any 'Brutal Death Metal' grunter, and his powerful baritone like a dark twin to the similarly gifted Mike Patton. Indeed, hearing his voice across the course of Obake, one could very easily believe that he was the mutant offspring of Patton and Attila Csihar – the demonically-throated voice of Sunn, Mayhem, Void Ov Voices and Aborym – so fluid, stentorian and damned dark are his tones, and, like Patton, he doesn't merely sing – he vocalises, using his voice as an instrument for adding layers of texture. Fornasari elevates what would already be a seriously tasty musical proposition into a must-hear.

—Paul Robertson, the sleeping Shaman on Obake

[18]

That said, the music on this record is pleasingly varied and often marked by a profound sensitivity. Fornasari's vocals, in addition to the metallic tinge, cover textures ranging from Leonard Cohen's vaguely menacing whisper, to the darkly elegant style of Secrets of the Beehive (Virgin, 1987)-era David Sylvian, to full-blown operatic exaggeration ("Dream Made of Water")

—BERSERK! reviewed on Allaboutjazz.com

La scrittura non è impresa facile, affidata a Lorenzo Esposito Fornasari, che esce a testa alta dal labirinto di ambienti sonori richiesti dall'Opera: rock, musica da camera, canto epico, tra citazioni di Beethoven e canto in latino.

—SAGA reviews on ilsussidiario.net

Fornasari's vocals are astonishing powerful, morphing between an urbane Sylvian-like drawl to a cracked-gravel growl oozing with a creeping malevolence. That theatricality evokes the dystopian pronouncements interleaving Bowie's Outside.

—Syd Smith, Prog Magazine on Berserk

Over the last decade, Fornasari performed in excess of two hundred events in prestigious Italian and European festivals and theatre stages among which we count the 

Wave-Gotik-Treffen[2]

 in Leipzig with the band Owls

[3]

 (

Tony Wakeford

, 

Eraldo Bernocchi

, Lef) 

Asymmetry Festival[4]

 in Poland with the band Obake,

[5]

 with 

Giovanni Lindo Ferretti

 at Teatro Vittoria in Roma, the Teatro Grande in 

Brescia

, the Cappella Paolina del 

Quirinale

, the Teatro di Correggio, the 

Teatro Comunale Modena

, Bologna in 

Piazza Santo Stefano

, the Teatro Piccolo Regio in 

Torino

, with Somma

[6]

 at the 

Teatro Dal Verme

 di Milano, and singing Contemporary Opera at venues like the Teatro Comunale in Bologna, and finally the Teatro Comunale in Ferrara. In 2004 he started working together with 

Eraldo Bernocchi

 with whom produced the album "Unisono"

[7]

 in collaboration with 

Bill Laswell

.

[8]

 During the same year, Fornasari gave birth to the "Vaga L'Am" project with 

Quintorigo

, 

Giovanni Lindo Ferretti

, Enrico Gabrielli and Transgender. In 2007 he took part in the Somma

[6]

 project with 

Eraldo Bernocchi

, 

Bill Laswell

, Raiz, 

Hamid Drake

, 

Nils Petter Molvær

, Faraualla and seven Tibetan Monks. In 2008, again with Eraldo Bernocchi, he co-produced the remix album for 

Ephel Duath

's "Pain Remixes the Known".

[9]

 In 2009 he wrote soundtracks for "La torre riflette", a video installation on the Due Torri in Bologna.

[10]

 In the same year he produced "Costituto" with Bernocchi, Markus Stockhausen and Giovanni Lindo Ferretti, a 700 years celebration album for the Costituto of Siena.

[11]

 In 2010 he disclosed an approach to the 

bel canto

 as he made his debut in 

Nino Rota

's "Il Principe Porcaro" opera at the Teatro Comunale in Ferrara.

[12]

 Finally and more recently, Fornasari is a member of the trio Owls,

[3]

 with Eraldo Bernocchi and Tony Wakeford, which played their opening concert at the 

Wave-Gotik-Treffen

 in Leipzig in 2011. In 2012 he won

[13]

 the Genova Film Festival award with his "Cose Naturali" soundtracks.

[14]

 Fornasari is also a member of Obake with Bernocchi, 

Massimo Pupillo

 and

Balázs Pándi

. In 2012 

Trevor Dunn

 is on tour with the band subbing for Pupillo.

[15]

 Obake is 6th in the list of 2011's 50 most important releases in 

Rock-A-Rolla

 magazine. In 2012 Lef wrote music for Saga, a 

Giovanni Lindo Ferretti

's opera with 14 horses on stage. In 2013 he started with Lorenzo Feliciati the band Berserk! (Rarenoise Records April 2013).

[16] Pat Mastelotto

, 

Jamie Saft

, 

Gianluca Petrella

, 

Eivind Aarset

, Cristiano Calcagnile, Fabrizio Puglisi, Sandro Satta and Simone Cavina took part in this studio album as well. In 2013 the Sony Music

[17]

 released the 

Giovanni Lindo Ferretti

's Saga cd, composed and produced by Lef.